Mission Statement
By providing entertainment, toys and year end holiday parties to seriously ill children in the New York area, The Eugene Zitwer Foundation, also known as The Uncle Yuddy Fund, brings love, laughter and emotional support to these children and their families. Prior to 2017, the Foundation also refurbished hospital pediatric playrooms, provided funding for medical procedures, for professionally supervised child-life staff and extended playroom hours, for holiday programs and for video libraries and equipment. The Uncle Yuddy Fund is a celebration of life and is run solely by volunteers.
See [here] to see our brochure.
December 31, 2016
Dear Friends,
After our year-end holiday party earlier this month, the Foundation's board members got together, and we were overwhelmed at what a great success the event was—how much joy it gave to the children and their families, and to the hospitals and medical professionals serving them. The evening brought light and warmth to everyone in attendance, and emphasized what an essential role community has always played in the work we do.
Together, we will be continuing the charity for the express purpose of funding year-end holiday parties for the hospitals at which we currently fund programs. That way, we will be better able to focus our fundraising efforts, and will change people's holiday seasons each year by giving the priceless gifts of laughter and love. We hope you can join us on this next phase of our work.
When the Foundation was first established by Edith Zitwer, her three daughters, a niece and a family friend to honor Eugene Zitwer, the organization's primary goal was to bring greater support to seriously ill children and their families in the New York area. And so we will still continue this mission. Above all, we have been doing this work for 25 years because of the community we are able to bring together and nourish.
The Eugene Zitwer Foundation's sole method of fundraising going forward will performed via email, and predominantly in New York, where most of our current partner hospitals are located. We politely ask that you go to http://tinyurl.com/ZitwerFoundation to provide the email address so that you can receive email updates about the Foundation.
Thank you to our donors for supporting us through the past 25 years. Please know that you have helped bring smiles to countless children and families in need.
With gratitude and hope,
Lori, Mary, Sharon and Terry
Two Local Women Helping Bring Joy to Sick Kids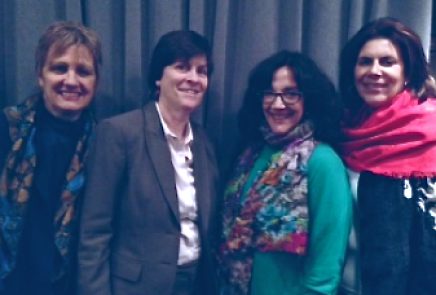 More than two decades ago, Mary Millman and Sharon Dashow decided the best way to honor Millman's father was to start a foundation geared at helping kids in need of some love and special attention.
The Eugene Zitwer Foundation was born, and now serves sick children throughout the New York Metropolitan area... [read here].